These links are provided for informational purposes.
PREPARING CITIZENS AT THE LOCAL LEVEL
American Red Cross
The American Red Cross provides localized relief for victims of disasters and helps people prevent, prepare for, and respond to emergencies. The website offers guidelines and resource materials for dealing with terrorism and unexpected events.
Community Capacity Development Office 
The Community Capacity Development Office (CCDO) develops, evaluates, and implements policies that serve as models for other national community capacity development efforts and provides counseling for local, state, and federal government agencies and private sector clients on a variety of justice-related community issues. CCDO also works with bureaus and program offices in the Office of Justice Programs to ensure that the special needs and programs of American Indian and Alaska Native communities are incorporated in products and services.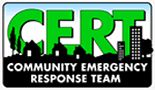 Community Emergency Response Teams (CERT)
CERT promotes both improved emergency response and partnerships between emergency services and the communities they serve by enlisting emergency responders to train community members in basic response skills.
Corporate Crisis Response Officers Association
The Corporate Crisis Response Officers Association (CCROA) believes that local business must play an important role in community preparedness and response. In addition to the civic responsibility and Good Samaritan contributions that underpin private sector contributions to preparedness and response, local commercial vitality after a crisis is determined in part by the same forces and consequences that affect a community's recovery after a crisis. CCROA encourages collaboration between municipalities and their local employers to establish a new standard of participation and remove barriers to private-sector involvement in crisis preparedness and response—all of which could augment the local community capability.
The Emergency Email and Wireless Network
This free public service notifies citizens of local, regional, national, and international emergencies through the Internet and e-mail in a secure and expedient manner.
Emergency Management: Status of School Districts' Planning and Preparedness (PDF) 
U.S. Government Accountability Office, May 17, 2007
This testimony discusses preliminary findings of the Government Accountability Office's review of emergency management in schools, including the roles of state and federal governments in establishing requirements and providing resources for emergency management planning; what school districts have done to plan and prepare for emergencies; and the challenges school districts face in planning for emergencies, taking into account communications and coordination with first responders, parents, and students.
FEMA and American Radio Relay League Partner in Preparedness Through Citizen Corps
Federal Emergency Management Agency, June 2003
The partnership among FEMA, the American Radio Relay League, and Citizen Corps aims to raise awareness about the use of amateur radio as a public safety resource, provide training and accreditation for amateur radio emergency communications, and assist Citizen Corps Councils with public education, training, and volunteer service opportunities that support first responders, disaster relief organizations, and community safety efforts.
Fire Corps
Fire Corps was created to help fire departments use citizen advocates. It works in partnership with the International Association of Fire Chiefs', the International Association of Fire Fighters, the National Volunteer Fire Council, and the USA Freedom Corps. Fire Corps provides individuals with opportunities to support their local fire departments and enhance fire department operations.
Listo Campaign
On December 8, 2003, the U.S. Department of Homeland Security (DHS) launched the Listo Campaign—a Spanish-language version of DHS's Ready Campaign. Through television, radio, print, outdoor, and Internet advertising, the campaign will empower Spanish-speaking Americans and residents to prepare for and respond to potential terrorist attacks.
Medical Reserve Corps
The Medical Reserve Corps gives health professionals the opportunity to volunteer their time and skills to assist their communities before and during a large-scale emergency and with ongoing public health needs.

National Crime Prevention Council (NCPC)—Homeland Security
NCPC's mission is to help people create safer and more caring communities by addressing the causes of crime and violence and reducing the opportunities for crime to occur. This site provides links to homeland security-related issues such as national and religious profiling, emergency preparedness, workplace and building security, community mobilization and volunteerism, and terrorism prevention.
National Voluntary Organizations Active in Disaster (NVOAD)
NVOAD coordinates planning efforts by many voluntary organizations responding to disaster. Member organizations provide more effective and less duplicative service by coordinating activities before disasters strike.
TRANSCAER® (Transportation Community Awareness and Emergency Response)
TRANSCAER® is a voluntary national outreach effort that focuses on helping communities to prepare for and respond to a possible hazardous material transportation incident. Members consist of volunteer representatives from the chemical manufacturing, transportation, distribution, and emergency response industries, as well as the government.