These links are provided for informational purposes.
PREPARING CITIZENS AT THE LOCAL LEVEL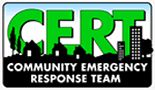 Community Emergency Response Teams (CERT)
CERT promotes both improved emergency response and partnerships between emergency services and the communities they serve by enlisting emergency responders to train community members in basic response skills.
The Emergency Email and Wireless Network
This free public service notifies citizens of local, regional, national, and international emergencies through the Internet and e-mail in a secure and expedient manner.
Medical Reserve Corps
The Medical Reserve Corps gives health professionals the opportunity to volunteer their time and skills to assist their communities before and during a large-scale emergency and with ongoing public health needs.